PICKING OF RANDOM
FRAGILE GOODS FOR LOGISTICS
Client
The client is a leading producer of luxury crystal accessories and homeware. They engaged a 3PL(Third-party Logistics) for order fulfillment.
The Challenge
Automation was being considered by the 3PL to streamline their picking process, where operators transfer and manually cross-check orders about to be shipped out. The new system, therefore, had to guide robots to pick up packages, then scan them on the barcode reader to verify they contained the correct ordered items.
The ultimate challenge was for the robot to recognize different packages in the first stage accurately, as they would vary in size (depending on the item contained) while being densely packed together. The delicate nature of the client's glass products meant the robot also had to be 'smart' enough to pick at the right point and place gently to avoid damage.
Our Approach
In their quest to find the most suitable software, the 3PL hosted a blind test to see how different vision systems would integrate with their Azure Kinect cameras and Omron robots to pick and place a bin of random packages.
Solomon's solution for next-generation logistics, JustPick leverages AI algorithms and 3D imaging for picking of unknown items.
By performing high accuracy instance segmentation, the system was able to detect individual packages even as they were densely packed together for the robot could identify the optimum picking point. The system's motion planning function then guided the robot to place packages down carefully through advanced path analysis and collision avoidance.
JustPick was also able to integrate with a range of end-effectors from parallel grips to suction cups. Upon locating a package, the system applied an algorithm to switch to the suitable gripping method for the picking.
This seamless hardware-software coordination ensured that the packaging and its contents were completely safe from harm during the handling process.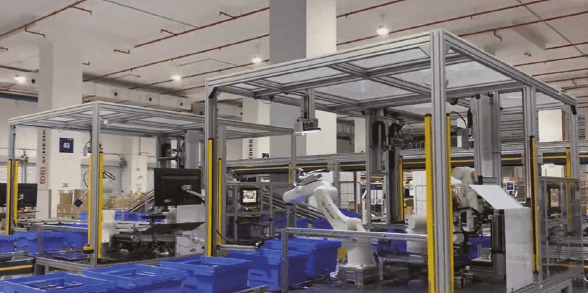 Results
Increased throughput from improved cycle time.
Saved costs from reduced human-error (e.g. duplicate orders handled).
Faster tracking of how and which products were moving through the chain, so operators could fix any problems (e.g. missing or incorrect items) before packages dispatched.