SolScan Pro
Smart 3D Vision System
Industrial Automation System
SolScan Pro

Product Description
SolScan Pro is a complete all-in-one smart 3D vision system that provides advanced capabilities for bin picking, 3D scanning, and vision guided robotics. Its unique combination of a 2D camera, a 3D scanner, and embedded AI technology delivers a compact and powerful 3D vision solution.
SolScan Pro is compatible with a variety of robot brands, including UR and Yaskawa, and supports industrial protocols such as Modbus, OPCUA, and TCP/IP. This enables seamless integration with existing systems, simplifying the implementation process. With no software installation required, SolScan Pro is ready to use out-of-the-box, allowing for simple setup and rapid deployment.
SolScan Pro has a browser-based user interface and a built-in computer, providing intuitive operation and control through a smartphone or tablet. The system incorporates advanced motion planning and bin collision avoidance features, ensuring efficient and safe operation in diverse industrial environments.
Experience the benefits of advanced industrial automation technology at an affordable price. SolScan Pro empowers businesses of all sizes by making 3D vision capabilities accessible and within reach. By leveraging SolScan Pro, businesses can enhance their operations and achieve greater efficiency in their industrial automation processes.
SolScan Pro

Features
Built-in AI
SolScan Pro includes AI tools for detection, known, and unknown picking.
Structured Light 3D Scanner
SolScan Pro's advanced 3D scanning capabilities enable precise measurements and detailed point cloud information.
3D Point Cloud Matching Algorithm
SolScan Pro's advanced AI tools enable accurate and reliable object recognition, even in complex environments.
Advanced Motion Planning
SolScan Pro's advanced motion planning module calculates the optimal path for your robot, with bin collision avoidance features for increased safety and efficiency.
Cobot Compatibility
SolScan Pro works seamlessly with a wide range of robot brands, including UR and Yaskawa.
Web-based UI
SolScan Pro's web-based graphical user interface makes it easy to operate and optimize your picking workflow, with no coding required and no need to install any software.
All-in-one Compact Design
SolScan Pro's compact design makes it easy to integrate, for simpler setup and maintenance.
Factory Calibrated
SolScan Pro comes pre-calibrated and ready to deploy, with a pre-installed docker image for easy integration.
Accessible Innovation
SolScan Pro is a complete automation solution that can be operated easily with an existing smartphone or tablet device. No external computer is required.
SolScan Pro

Applications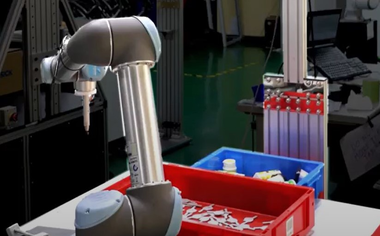 Known and Unknown Picking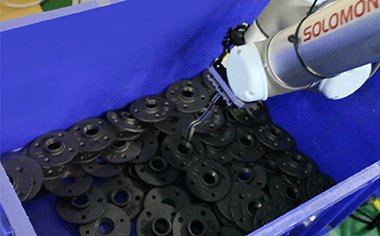 Pick and Place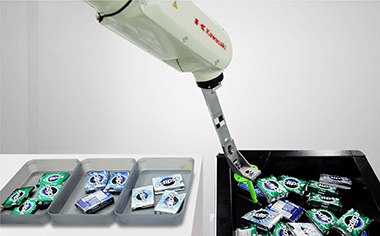 Random Bin Picking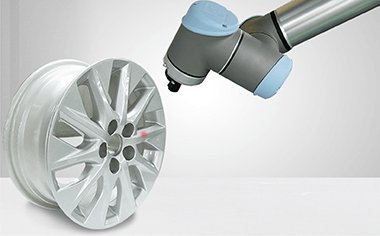 Vision Guided Robotics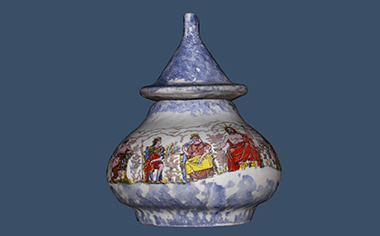 3D Scanning
SolScan Pro

Videos
Known Picking
SolScan Pro excels in known picking tasks by leveraging specialized algorithms and models tailored to the known objects to ensure a consistent and streamlined picking process.
Unknown Picking
SolScan Pro rises to the challenge of unknown picking scenarios, enabling robots to pick objects without prior knowledge. Leveraging its advanced perception and sensing capabilities, SolScan Pro empowers robots to identify and locate objects of varying shapes, sizes, and appearances.
SolScan Pro

Specifications
| | |
| --- | --- |
| | |
| 3D Tech | Structured Light |
| Pixels | 2.3M |
| Resolution | 1920 x 1200 |
| Working Range | 300-2000 mm |
| Dimension (L-W-H) | 223 x 170 x 55 mm |
| Resolution of Object | 0.1mm-1mm |
| Operating Temperature | 0-40°C |
| Power Supply | Input: 100-240 AC / 50-60Hz Output: 12VDC / 11.5A / 138W |
| Weight | 1.7kg |
| Interface | GigE |