Solomon's Innovative Research and Design Achievements Recognized For the Fifth Consecutive Year
The results of the 31st Taiwan Excellence Awards were announced, and Solomon, a global leader in 3D machine vision and industrial AI applications, was awarded the Silver Award for META-aivi, Solomon's innovative AI-powered AR platform.
The Taiwan Excellence Awards are known as 'the Oscars of industry', and Solomon stood out among 547 manufacturers and 1,109 products, winning an award for the fifth consecutive year.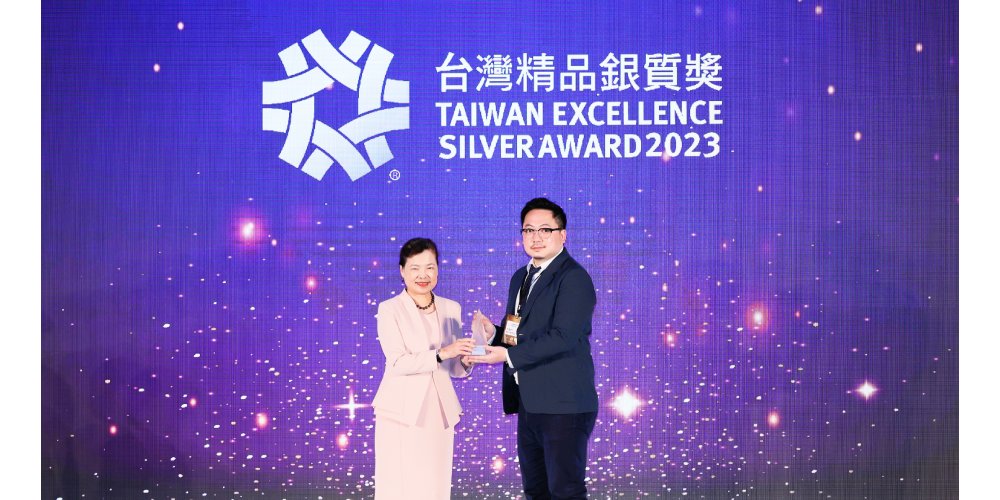 Solomon's Senior Product Manager, Jia-Yun Li, (right) is presented with the Taiwan Excellence Silver Award 2023.
Addressing Challenges in Manufacturing and the Frontline with a Wearable AI Solution
Solomon has gained global recognition for its innovative research and design achievements in intelligent automation and smart transformation. Despite the introduction of robotic arms and other automated equipment, factories still face operational challenges due to the lack of agile and multitasking abilities in human workers, as well as the need for intelligent talent inheritance across generations. To address these issues, Solomon developed META-aivi, a wearable/portable AI solution that integrates AR and advanced deep learning technology.
This wearable AI solution assists frontline workers in various tasks, such as smart counting, smart inspection, and process guidance, with the help of AI judgments and voice control. It also enables instant inventory tracking and accurate monitoring of equipment and the environment, which can prevent operational crises and errors. Moreover, META-aivi will play a key role in talent inheritance and knowledge retention in smart manufacturing, providing even inexperienced workers with proper guidance and feedback for efficient task verification, detection, and classification.
Innovative Integration of AI and AR to Empower the Frontline
Solomon's Senior Product Manager, Jia-Yun Li, explained, "META-aivi is an integration of AI and AR visual applications. In addition to using AR glasses for applications, mobile devices such as Android phones or tablets are also used as carriers. Through AI judgment and voice control, frontline personnel can quickly assist in intelligent counting, intelligent inspection, process guidance, and other applications without the need for complex programming or large amounts of image learning. META-aivi can instantly keep an inventory of factory or warehouse materials and accurately monitor machinery and equipment, and surrounding environments, to avoid human errors such as misreading or overlooking. This is especially necessary for factories that prioritize environmental, safety, and health, such as semiconductor manufacturing plants and power companies."
In addition, Jia-Yun Li pointed out, "In smart manufacturing, META-aivi plays a key role in experience transfer. Through the integration of AR technologies, even inexperienced personnel can obtain correct operating guidance, perform SOP process verification, and receive real-time feedback guidance, thereby improving work efficiency and enhancing corporate performance, and providing more diverse employment opportunities for society."
Solomon's Commitment to Innovation and Collaboration in AI Development
Solomon continues to be dedicated to meeting customer needs through core AI technologies, developing more products in areas such as robotics, vision, and intelligent inspection. By collaborating closely with systems integrators, Solomon provides a comprehensive, reliable solution for a range of industries. The company is deeply committed to promoting AI adoption and encouraging all sectors to work together to create new value for customers in Taiwan and throughout the world.
A version of this article was originally published in the Commercial Times.