SolVision
AI Vision System
Industrial Automation Software
SolVision

Product Description
SolVision is Solomon's core AI vision system software designed to optimize inspection processes with our coveted deep learning technology. Utilizing machine vision and advanced algorithms, SolVision delivers exceptional performance in presence/absence checks, item classification, and defect/anomaly detection.
Compared to manual inspection and less sophisticated vision systems, SolVision stands out for its ability to reduce inspection time while ensuring increased accuracy. This allows manufacturers and producers to consistently meet the highest quality standards, resulting in enhanced overall product quality and production efficiency.
SolVision ensures effortless integration with built-in PLC communications through TCP/IP and Modbus protocols, all at no additional cost, making it the ideal vision program for systems integrators and end-users seeking an inspection automation solution. Whether in manufacturing, food processing, textiles, electronics, or other sectors, SolVision's advanced features and deep learning capabilities cater to a diverse range of industry needs.
Experience the precision, efficiency, and unmatched quality assurance brought by SolVision to elevate inspection processes with Solomon's flagship vision system software.
SolVision

Features
Diverse AI Visual Inspection Applications
SolVision is widely recognized for its exceptional performance and versatility which allows for implementation in defect inspection, presence detection, classification, and optical character recognition applications. SolVision offers a comprehensive automation solution tailored to specific industry requirements, enabling users to enhance their inspection processes confidently and optimize operations.
Parallel Defect Detection Capability
SolVision can leverage multiple GPUs and graphic cards to distribute the AI computing load. This capability allows users to perform multiple detections concurrently, resulting in reduced processing time and enhanced productivity.
User-Friendly Interface
SolVision has an intuitive interface that enables users to label multiple defect types simultaneously, making SolVision ideal for applications requiring the classification of several defects and features.
SolVision

Applications
Defect Detection
Maintaining product integrity is crucial, even after a thorough disinfection process. Bottles may still retain mildew and stains, compromising their visual appeal and overall quality. Detecting and addressing these defects is essential. However, traditional methods of defect detection face challenges when rotating and moving the bottle during inspection. SolVision overcomes these challenges with advanced AI inspection capabilities. By learning from a small set of sample images, SolVision is adept at identifying the unique features associated with bottle defects. In real-time scenarios, SolVision can accurately detect issues like mold or residue on recycled glass bottles, ensuring adherence to quality standards and enhancing product safety.
Classification
SolVision leverages advanced deep learning technology to accurately identify and mark defects on various items, including eggshells in sample images. Through training an AI inspection system with these marked images, the system is capable of detecting and classifying pores and cracks on the surface of eggshells. This meticulous attention to detail ensures adherence to stringent safety standards and enhances commodity value. With SolVision, producers can elevate product quality, meet consumer expectations, and establish a trusted reputation in the market.
Presence/Absence
Ensuring the accuracy and integrity of product packaging is vital in industries like pharmaceuticals, where precise dosages and quality assurance are paramount. Push-through-package (PTP) blister production lines are renowned for their high capacity, handling thousands of tablets or capsules per hour. However, errors during the filling process can lead to unfilled or deformed blisters, as well as inadequate or broken tablets or capsules. SolVision offers an advanced solution to address these challenges. By training an AI model with images of PTP samples, SolVision enables automated visual inspection. Supported by SolVision's segmentation tool, the AI model adeptly detects and identifies the contents of PTP blisters, facilitating prompt defect detection and classification. This robust approach ensures effective quality control and comprehensive defect management.
Optical Character Recognition
In the fast-paced world of manufacturing, efficient and accurate recognition of text and numbers is crucial for inventory management and quality control. SolVision stands out with its exceptional Optical Character Recognition (OCR) capabilities, which require minimal sample images for training. Leveraging advanced image processing techniques, SolVision can keep pace with high-speed production lines, accurately recognizing and extracting information from labels, including bottle cap numbers and expiration dates. By swiftly identifying defective labels or misprinted information, SolVision strengthens inventory management and tracking processes, optimizing product quality and enhancing overall operational efficiency.
SolVision

AI Inspection Examples
Contact Lenses

Metal Parts

Laser Welding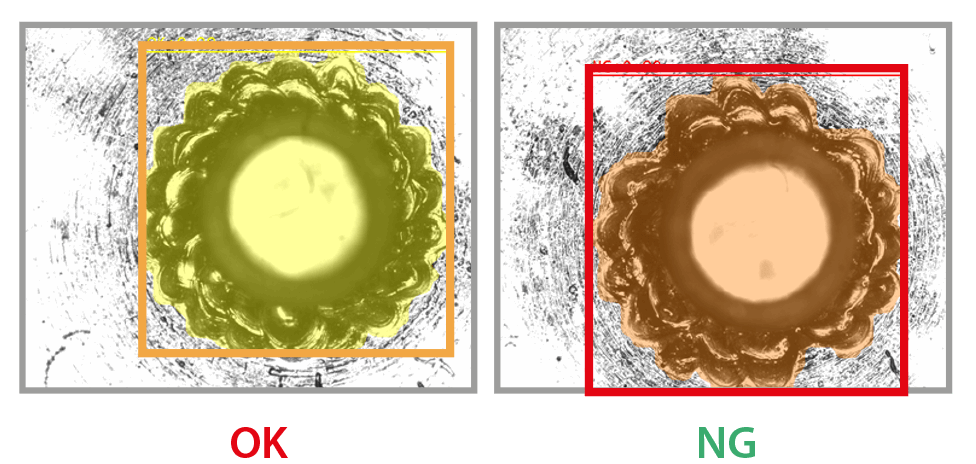 Processed Food