Solomon's AccuPick wins Red Dot Design Award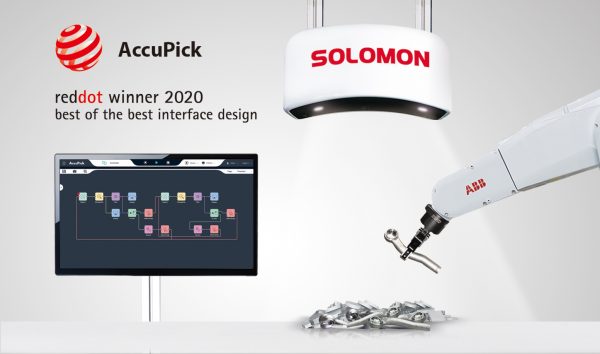 [Taipei, August 11th]. Solomon's AccuPick™ was bestowed the 'Best of the Best' Award 2020 by Red Dot in the Communication Design section in the category Interface & User Experience.Solomon succeeded in winning over the jury with the very high design quality of its AccuPick™ user interface. By winning this distinction, AccuPick™ has been recognized as one of the best brands and creative works of this year.
At Solomon, we strive to provide customers with the most advanced machine vision solutions, making robots smarter and easier to use. To make this possible, our company placed a lot of emphasis in providing our customers with an intuitive and simple user interface. This with the objective of helping them to easily set up and control the robots involved in their manufacturing and logistics processes, allowing them to accurately perform a wide array of pick-and-drop tasks.
Red Dot CEO Professor Dr. Peter Zec on the laureates
Professor Dr. Peter Zec, founder, and CEO of Red Dot expressed his sincere congratulations to the winners by saying: "I would like to congratulate the laureates of the Red Dot: Best of the Best award on this outstanding achievement. This sought-after distinction stands for quality and design leadership and the winners can be very proud that they have fulfilled the strict criteria of our jury. They won over the jurors with the very high-quality design and creativity of their work."
Evaluation by an international jury
The Red Dot Award provides a platform to designers, agencies, and companies from all over the globe for the evaluation of the design. In 2020, a total of 6,992 creative projects and brands from 50 countries participated in the competition. In line with the motto "In search of good design and creativity", the 24 international jurors assessed this year