Wednesday, Jan. 20, 2021 | 10:00 A.M PST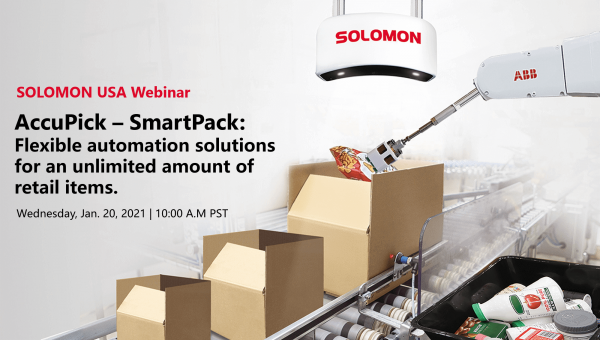 Rethink warehouse automation! This is AI and 3D vision combined for piece picking on the fly.
Solomon AccuPick is a powerful tool for robotic 3D vision solutions and is superior to other similar products in the market. Its variable 3D vision hardware compatibility, along with its comprehensive AI-based vision software algorithm, multi-brand robot motion planning interface, and newly developed SmartPack, make AccuPick 3D the perfect all-in-one solution for your robotic 3D vision projects.
We will be covering the following agenda:
1.Solomon AI capability to locate diverse retail items.
2.Solomon proprietary Vision Controlled Gripper.
3.Solomon Smartpack solution.
4.Process of material handling automation by Solomon AccuPick.
5.Q&A