Picking of Complex Randomly Dropped Objects for Siemens India
Motion Technique delivers AccuPick 3D vision and AI-based solutions to Siemens India for their Switchgear manufacturing factory.
The Siemens task required the vision system to recognize the orientation and position (including rotation, yaw, and tilt) of laminated steel components accurately and guide the robot to pick and drop them at a designated position on a feeding conveyor.
The depth of the bin (740x365x230mm) and the small size of the components required that a long gripping tool was used to decrease the possibility of collision against the bin. In addition, the complex shape of the items, the limited picking angles, and the fact that they were randomly dropped made it impossible for the CAD-based localization technology to achieve the contractor's desired result.
Solomon's Bin Picking Solution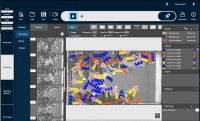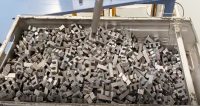 Solomon used AI-based localization technology and its 2.3 MP scanner to generate 3D point clouds that allowed Motion Technique to clearly identify each components' possible orientation and place them in an in-house designed customized slider. In addition, the deployment of AccuPick's ROS Motion Planning allowed the robot to successfully carry out its picking tasks without colliding against the bin. This fulfilled all of Siemen's requirements within 6 seconds, including the scanning, recognition, motion planning, and the actual picking and dropping of the components with a UR10 Robot.
We are glad that we chose AccuPick for one of the most challenging Bin Picking projects that came our way. With a large FoV & working distance of over 1250mm, we needed a picking accuracy of +/- 1mm. The components were small and heavy with a tendency of getting entangled with each other. The Bin in the comparison was deep, so a long gripping tool had to be used which added to a lot of complexity and restrictions due to the high possibility of Gripper Collision, Bin Collision and Limited Picking Angles. The Solomon team put in some massive efforts to overcome all challenges and achieve better than committed cycle times. ROS Motion Planning was deployed which resulted in almost magical robot motions for pick missions. We believe no other Bin Picking Solution would have been able to execute this project of such high complexity.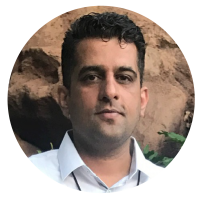 Uday Mali
Director
Motion Technique (India) Pvt. Ltd.
Solomon

has solutions for a multitude of applications across a variety of industries.
Find out which solution we have for your application