Warehouse Depalletizing of Randomly Positioned Boxes
Client
Tobacco Authority of Thailand, a state enterprise that manufactures and distributes tobacco for local consumption and export.
The Challenge
The client required a solution that would allow its Comau robots to pick randomly positioned boxes in sets of one, two, or three at one time, and move them on to an adjacent conveyor belt. Operating the entire -fleet of robots was complicated by unstable lighting conditions, and by the irregular placement of boxes during their handling process.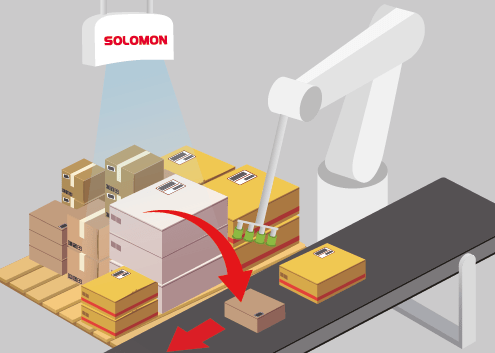 Our Approach
AccuPick 3D was used to communicate with the Omron PLC and efficiently control the robots, leading to an improved cycle time of 5 seconds per box.
To overcome space limitations in the warehouse, AccuPick's 'eye-in-hand' mode was used to mount the compact.RealSense camera sensor onto the robot arm for the scanning process. AccuPick also made it possible for the robot to use one or multiple suction grippers to grasp required boxes, based on the surface area detected by the camera.
The integration of these technologies allowed the robot to pick and depalletize with high precision regardless of the adverse lighting conditions and provided it with an advanced vision to pick objects even as their position changed during transit on the conveyor belt.
Results
Successful and fast integration with PLC to control a previously unsupported robot brand.
Flexible picking of the desired number of boxes depending on scenario requirements.
High accuracy and efficient picking even as position and/or orientation of boxes changed to depalletize.